Product

Android / Windows Interactive Module with design of light weight applies to modifying of various long, short and ultra-short focus projectors or LED projectors, to let projectors have interactive whiteboard functions. This product utilizes the technology that high-speed IR camera lens tracking moving objects, realizes human-computer interactive function. It adopts HID interface design, compatible with USB interfaces; Using newer, high efficient video compression algorithm to realize that image can be transmitted with high FPS in conditions of low bandwidth, improved product adaptability under various of light interference.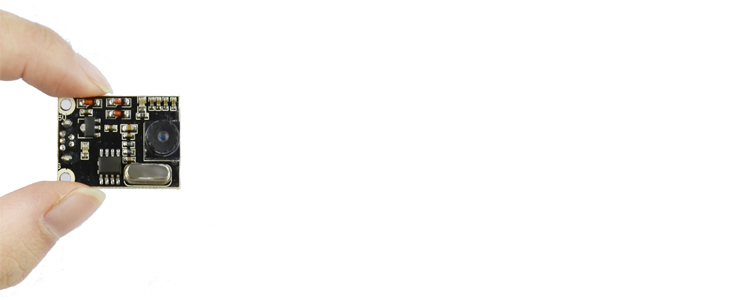 Dimension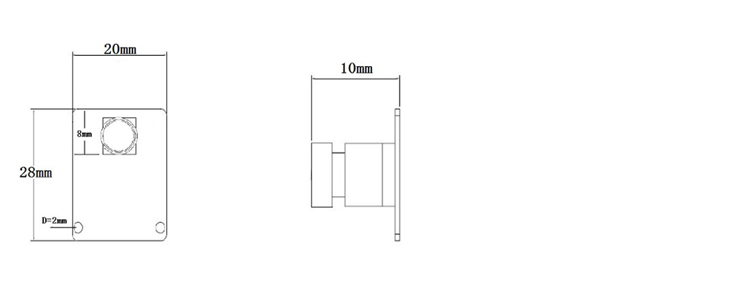 Outstanding features
1. Low-cost Solution: interactive module can transfer normal projector to be interactive projector
2. Support Android: Compatible with Android system; Now can customized more smaller size module to apply to LED micro projector. 
3. Automatic Calibration: There is no need to calibrate with 9 to 42 points. The auto calibration function is more humanized.
4. Strong Anti-light Interface:automatically block the interference of the same spectrum of light, which will greatly enhance the stability of the product.
5. Multi-writing and Multi-touch: based on optical technology, Hivista is the only one who can track up to 64 points, which provides the basic technology for multi-users and multi-points, optical interactive products are fully able to support windows multi-touch protocol.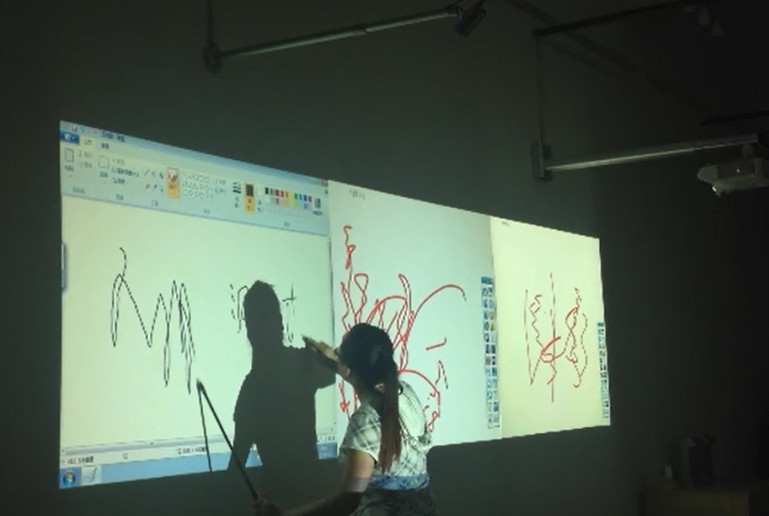 6. Support Linux System: Support Linux Ubuntu 10.10 version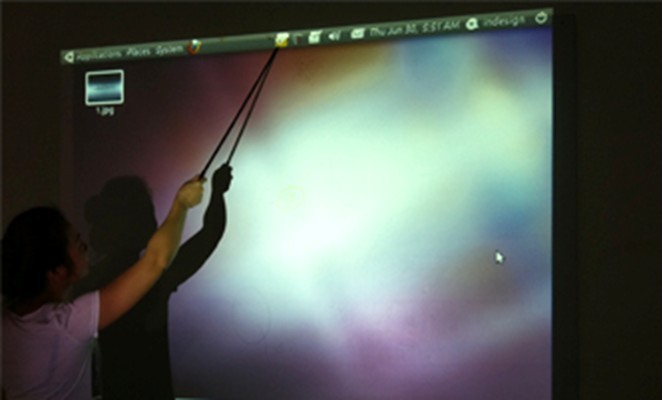 7. Wireless Transmission: wireless connection technology reduces the wiring trouble.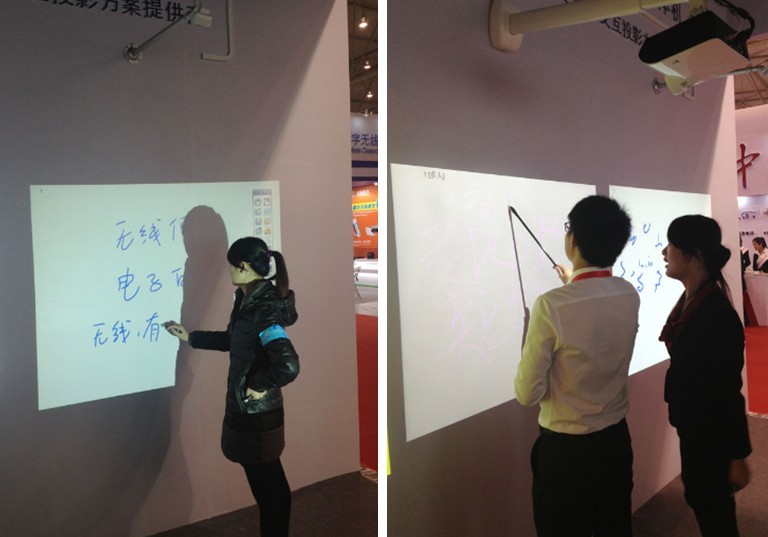 8. Visualization Debugging Tool 

: output the video image directly and simulate to be a standard video equipment ,also debug and test in the real productive process which will finally provide very convenient testing tool for maintenance in the future.
9. Smooth Handwriting: Hivista started to research the optical interactive technology since 2009, therefore, we have accumulated rich experience and launched a series of interactive products. With the core technology in hand, Hivista leads the orientation of optical technology.

             Hivista's Effect                                                               Other Competitors
10. Multi-writing (Max 64 persons can write at the same time)  

11. Supporting Multi-screen Operation:such as extended screen, splicing screen, divided screen.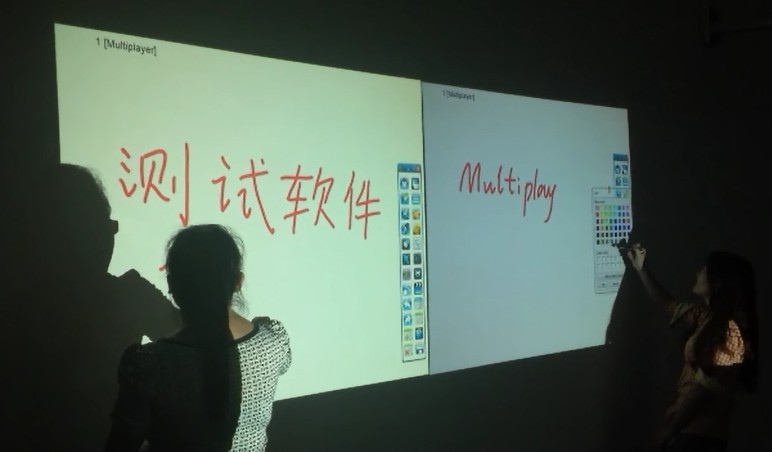 12. Finger Touch: Hivista successfully realized finger touch solution in our iDesk Desk Touch System at the end of 2012.

Specifications 
Signal Receiver

Realization Principle

Super-speed infrared track to locate

Port type

USB1.1. or USB 2.0

Consumption current

<=160mA

Voltage

5V (USB power)

Available wave length to receive signal

808-940nm

Max USB transmission distance

<=20M USB signal amplifier)

Image dimension

800*600

Interpolation 1600*1200

Transmission FPS

65~70 frame/sec

Positioning accuracy

4096*4096

Mouse Kbps

65-70Ponit/s

Right-hand button

Fixed dot>800ms

Device driver

HID standard device, support PNP

Max available infrared dots to track

128

Receiving distance

>=0.4m <=1.7m

Receiving size

Refer to Appendix B

Signal Generator

LED size

5mm

Battery

AAA 1.5V*2

Wave length

850nm

Pen Length

13.5cm

Pen Weight

41g

Trigger methods

<1g for pressing

Length range of pointer

36-68cm

Pointer Weight

60g

Trigger methods of pointer

Button

Operating Area

Long-focus Module IM-100

Projection Application Size (Diagonal)

Distance between Receiver and projection (mm)

56 inch

1600mm

68 inch

2100mm

70 inch

2300mm

75 inch

2500mm

85 inch

2800mm

92 inch

3200mm

150 inch

5000mm

Short-focus Module IM-200

80 inch

600mm

90 inch

800mm

100 inch

1000mm

120 inch

1400mm

150 inch

1700mm

Ultra-short focus Module IM-300

60 inch

400mm

70 inch

460mm

88 inch

520mm

92 inch

550mm

103 inch

600mm

E-pen

Movement Detection Technology

LED light

Power requirement

3V CR 123A x1

Pen Body Dimension

13.2cm(length); 2cm(diameter)

Weight

60g(with battery)

E-pointer

Movement Detection Technology

LED light

Control buttons

1 button(left and right click of a mouse)

Power requirement

3V CR 123A x1

Weight

90g

length

56(length)
Application
It applies to the 90% projectors in the current market. Based on the structure of the projector itself, the Projector manufacturers can choose to build the interactive module in/out the projector through adjusting internal structure or adding one external structural component. You can see the transformation for Short-focus projector as follows.

1. External Parts

                                      1                                                                             2



                                     3                                                                             4             
                                        


                                                    Finished Product

2. Built-in Parts


                                      1                                                                            2



                                    3                                                                              4



                                                       Finished Product
Demonstration