Product

Smart CPR Training Simulator
Hivista Smart CPR training simulator uses electric simulation technology to realize the prompting and simulation of training, which is the key point for training, including compression frequency, depth and direction, blowing time and volume, etc. The CPR training simulator has the function of metronome, voice and light prompt, and display to show live training data, which can enable trainee to grab correct CPR quickly.
SP08 is not going to compete with manikin or replace it on market. Mostly CPR manikins are existed in skill training schools, hospitals, government emergency organizations and so on occasions which used by instructor. Students only can use it and get training at school. Our simulator designed with small size, can be used at home or took everywhere as a training auxiliary tool for trainers or the general people who want to learn CPR skills. They can operate according to the indication of products LED display screen.
There are two mode of training and assessment. As long as the assessment scores finally generated is more higher closed to 100, the possibility of rescuing a person is more bigger.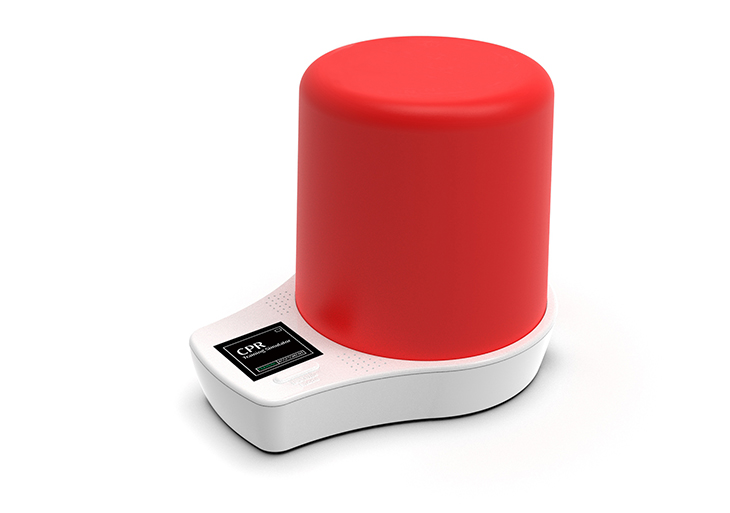 Features
· Easy switch between training and assessment modes.
· Auto detecting press frequency, depth, direction biasing, blow time and blow quantity.
· Rhythmic prompt tone of press frequency.
· Intelligent error correction of voice prompt function makes the training more effective and professional.
· Real time graphical training data display.It can let the trainees and trainers know the training performance at the real time.
· Standard rescue norms, 5*(30 times press, 2 times blowing).
· Automatic grading. It will calculate the grades according to the users press and blow performance and display it out.
Specifications
| | |
| --- | --- |
| Item | Parameters |
| Products Name | CPR Training Simulator |
| Product Model | CPR-SP08 |
| Training Contents | Pressing, Blowing |
| Voice Prompt | Yes |
| Press depth | 0-6CM |
| Press level of force | 0-32KG |
| Blowing Volume | 0-600ml (detection precision is 5ml) |
| Power Supply | AAA battery*4pcs |
| Power Consumption | 0.13W (0.12W for standby) |
| Display Size of Panel | 26.5*25.5mm |
| Net Weight | 330g |
| Gross Weight | 565g |
| Product Size | 120(W) x 164(L) x 132(H)mm |
| Packing Size | 14 x 14 x 17cm |
| Working Temperature | 0-60 Celsius |
| Storage Temperature | -20-60 Celsius |
| Supporting Language | English, Chinese |
Packing
Application